A Highly Concentrated Herbal Extract in glycerin.
   A source of strength, power, and resilience.

   Promotes circulation and fortifies muscles and bones.

   Half of a teaspoonful 2X daily for most of us.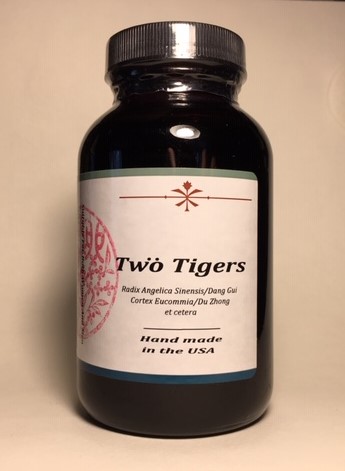 8 oz.  48 daily teaspoons
4 oz.  24 daily teaspoons
Dang Gui Root / RADIX ANGELICA SINENSIS

Naturally rich in vitamins and nutrients including vitamin A, B12, E, folates, and niacin. It can dilate blood vessels, control muscle spasms, and increase the blood supply to various organs and areas of compromised accessibility- And where blood flows, healing can occur. It contains antioxidants helpful in reversing the signs of aging.

The primary tonic herb to strengthen structural integrity in general and particularly at the lower back, knees, and ankles. It increases strength and flexibility in ligaments and tendons. As a longevity herb, it can enhance vital energies and increases the essence (jing) while decreasing blood pressure.
Sha Ren / FRUCTUS AMOMI – CARDAMON

Gastrointestinal tonic. Impacts the digestive system to efficiently process 2t.
Royal Jelly / FENG RU JIANG

Exclusive food of the queen bee. Often referred to as the longevity food since the queen bee, although genetically identical to worker bees, outlives them by a factor of 40 to 1. This mysterious food contains the greatest known concentration of natural source pantothenic acid, the anti-aging vitamin, which reverses imbalances in the body's chemistry.
This sweet natural substance is the preservative.